When I was young, we used to visit my uncle's holiday house on the south coast of New South Wales. It was a small shack with a deep wraparound verandah where we slept through the summer nights. That memory of sleeping under an old, timber-framed roof with a cool breeze filtering through mosquito nets has stayed with me.
All kinds of locations, events and experiences inform the memory of a beach holiday, but we often develop the deepest bonds with the specific places we inhabit when we travel. In some cases, a very special building can create unique memories that lead to new habits and attitudes towards life.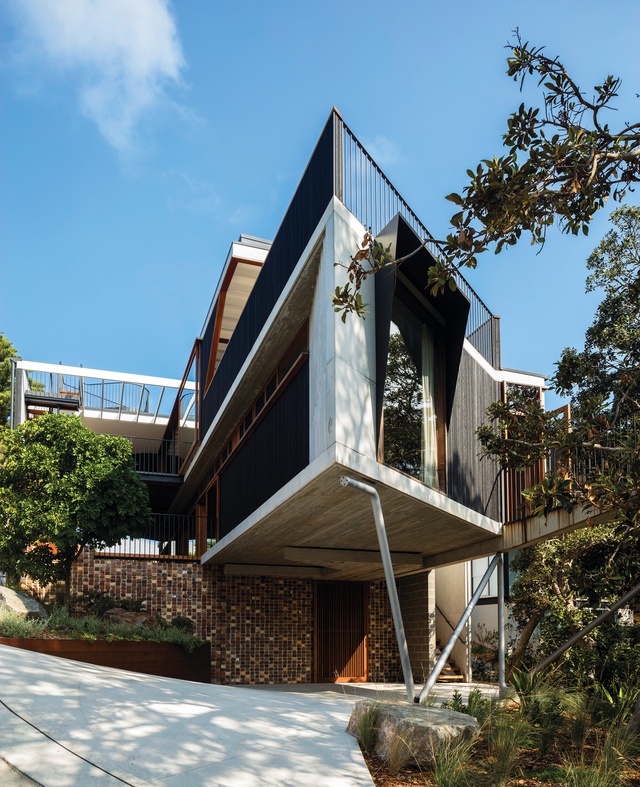 When I met architect David Boyle while visiting his Breezeway House – a holiday house for a family from Sydney to share with their friends – he mentioned his own family holidays. David shares a holiday house with some of his friends (kids in bunks, movie nights on beanbags) and he based the design for Breezeway House on what he most wants from his own house on those trips.
Breezeway House embodies a collective memory of time spent by the beach. The open corridor, or breezeway, that connects all the rooms in this house is made of decking boards, open timber framing and fibre cement shutters. These shutters, which are easy to open and close, offer a simple form of natural ventilation control.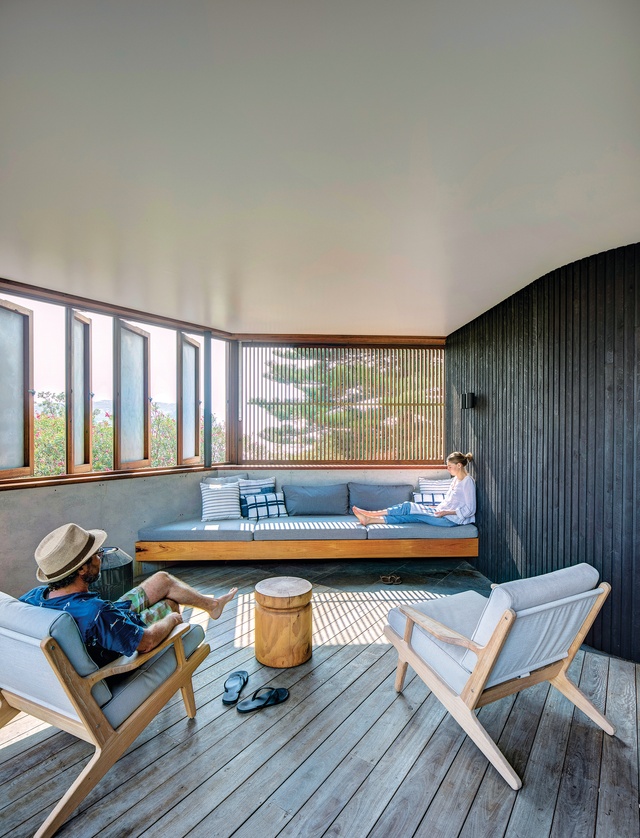 Big sliding doors connect all the rooms, including two parent rooms and an eight-bed bunkroom for the kids, and create open spaces reminiscent of sleepovers. Two huge built-in couches, one in the living space and the other in a rumpus room, facilitate the simple joys of movie nights and popcorn.
Outside the lower-level rooms, intimate gardens gather around fire pits and a paved area, enabling easy congregation, marshmallow toasting and handball competitions. Above these gardens, the exposed structure of the upstairs timber deck is the epitome of the Australian coastal shack.
Outdoor showers, sliding timber screens and window seats are formalized versions of the "bolt-on" amendments that typically adorn a holiday home. However, instead of rickety plastic chairs or a lashed-on bamboo lattice, this house employs exquisite hardwood framing, sculptural brickwork and oversized openings.
David tells me that he seeks to create "new memories intrinsic to the architecture." This house's rigorous detailing looks to go beyond accuracy and quality, to inspire new memories via subtle manoeuvres that suggest new ways to inhabit the home. A continuous metal handrail snakes inside and out, upstairs and along the breezeway, becoming a perfect towel hanger. A small hatch between pantry and living room allows dad to play barista on a lazy morning. A tiny deck for one shoots into the existing fig trees – a treehouse to read a book away from the others. These moments create patterns of use to be remembered into the future.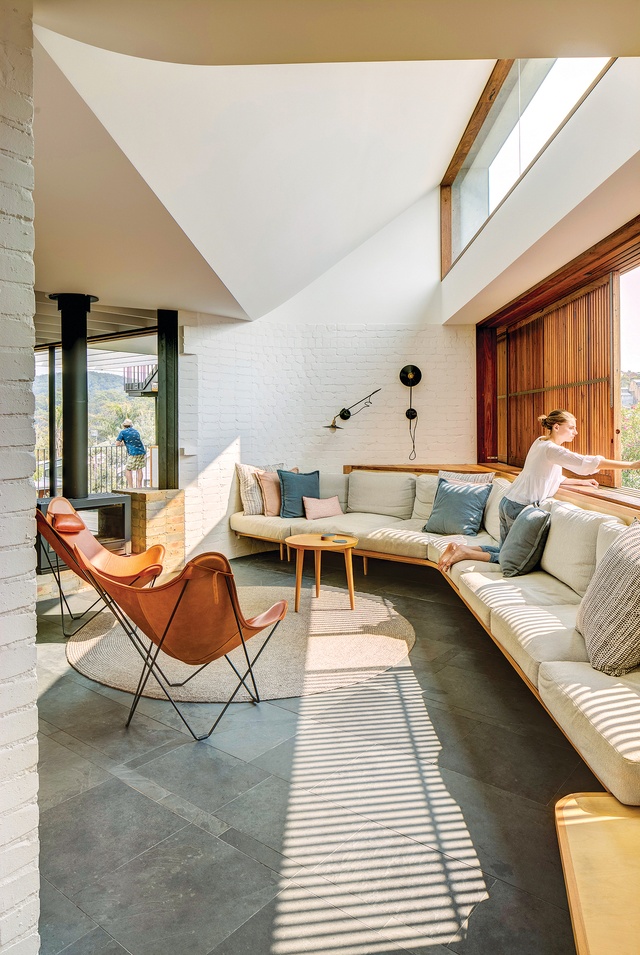 Memories, moments and artful planning coalesce in this house. The rooms downstairs, and their associated gardens, are calm and inward, shielded from the surrounding neighbours and offering welcome shelter from the sun and wind. Upstairs, meanwhile, the rooms are open and outward, taking in the ocean outlook at one end through a layer of screens and the forest at the other through a western deck, blinkered from the neighbours by the extended walls.
The generous northern deck is flanked by a wall to the north and a roof over half its area. These points of enclosure might seem counterintuitive, in terms of achieving optimal sun and views, yet they work to control privacy while providing focused views. A screen is simply slid back and the view is revealed, channelled through tapering walls to frame the rising headland beyond.
The final, most resolute and perhaps most subtle memory comes from the twisting geometry of the living room. It turns diagonally from the rest of the house, its scooping form closely referencing the nearby headlands. In a way, the landform is a memory of the place in which it exists: a coastal outcrop sculpted by wind and waves.
Breezeway House is not a radical new breed of beach house, nor is it the culmination of an architect's nostalgia for the perfect holiday. It sits somewhere in the middle, informing a continuous story of how we can live by the beach and how the brilliant Australian coast influences our lives.
This article first appeared on architectureau.com.